Introduction of Large Air Flow Brick Kiln Foeced and Induced Draft Fan
The function of Large Air Flow Brick Kiln Foeced and Induced Draft Fan is that Air supply, air and material conveying, the air temperature must not exceed 200°C. The remove device that its remove efficiency is great than 85% must be installed in front of the blower fan, to reduce the dust that in the fan's gas. In general statement the remove dust efficiency must exceed more than 85%.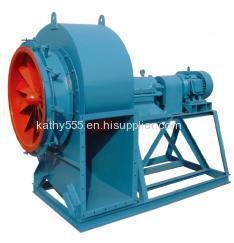 The centrifugal Air Blower is the machinery what will improve the pressure side by side to send gas.
It is a kind of driven fluid machinery. Blower fan is widely used in factories, mines, tunnels,
cooling towers, vehicles, ships, and the structure of the ventilation, dust and cooling;
The ventilation of the boilers and industrial furnaces and induced wind; Air conditioning
equipment;
Household appliances in cooling and ventilation; Grain drying and submitted;
Wind tunnel and become a hovercraft inflatable and propulsion
Working Temperature: < 400 degree
Air composition: Clean air, Dusty air, Corrosive gas, Combustible gas
Dust composition: Powder materials, Light particle materials, etc.
Impeller diameter: 800~1600 mm
Speed of mainshaft: 960~2900 rpm
Pressure range: 2705~15425 Pa
Flow range: 3297~63305 m3/h
Ventilation fan consists of chassis, main shaft, impeller, bearing transmission mechanism and motor,
System base frame, Protective screening,
Silencer, Inlet & Outlet pipeline compensator,
Inlet & Outlet flange, Damper, Electric actuator,
Shock isolator, Diaphragm coupling, Fluid coupling,
Motor rain cover, Temperature sensor, Vibrating sensor,
Soft starter, Inverter, Special Electrical Motor,
System monitoring Instrument,
Lube system, Overhead lube tank.